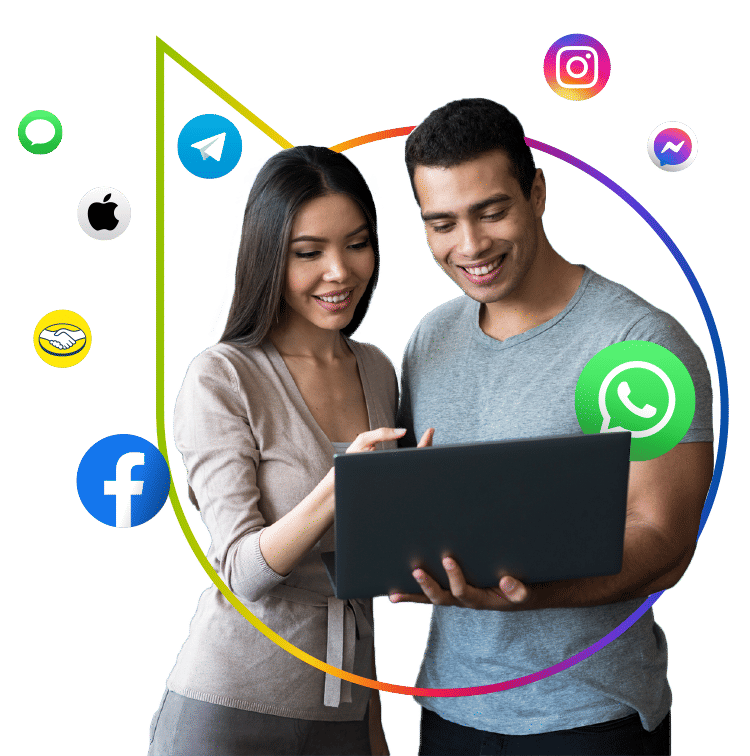 Increase your chances to sell more and provide the best support
Connect your agents with a single customer service line. Integrate WhatsApp, Facebook, Instagram, Telegram, Apple Business Chat, Mercado Libre and chat web, Apple Business Chat in one platform and automate with bots.
We are committed to the success of your business
Join the
700 Business
that use HiBot
All in ones.
All your agents in one single customer service line
Connect all your advisers to one single customer service WhatsApp line
Talk to your customers from their favorite channels
Centralize all chats from your social media and customer service channels
in one tool
Chatbots to suit your needs
Don't miss a single conversation by automating with bots. Improve the customer service experience of your clients and
agents by designing your own bots from an easy to use, intuitive and pleasant interface.
We offer a complete solution
Your customer management history in one place
E- Commerce on WhatsApp
Marketing Campaigns
Your customer management history in one place
E- Commerce on WhatsApp
Marketing Campaigns
There are no limits. We move with you.
Assist your customers from anywhere in the world
Manage all your clients' conversations from one single cell phone with our App

Download the mobile application, it has no additional costs. If you have a Hibot license, you can use the App anytime, anywhere. This way you will always have the management of your clients under control. It is available in the Apple Store and Play Store.
What companies say about us
"With HiBot our clients have immediate communication. This allows us to solve any questions immediately and our clients trust us. Even if we have a lot of requests, with HiBot we can answer them all. With this assistance we sell more travel packages and our customers are satisfied. HiBot is a platform with excellent customer service, we don't worry that much about our communications. We have also improved so much in terms of digital transformation and we adapt to the changes of the environment and to what our customers demand".
"With HiBot we managed to turn to an 100% remote work system, which was necessary due to the pandemic. It was easy to adopt the new service, it is intuitive, easy to use and it also has excellent customer service. As we've grown, we managed to adapt to the service almost immediately. It has a lot of valuable functions for our business and much more that we haven't explored yet. We hope we keep growing with HiBot and its team as an ally".
"HiBot has allowed us to unify the information inside our sales department. We now have simultaneous assistance in just one platform and we have control over the connection time and the amount of chats that an agent can assist. HiBot has given us a better image in front of our customers and they trust us more when they want to make a payment since we have a verified customer service line".
Prices for those who want to improve management and communication with their customers
Incluye 2 agentes y 1 canal
6 conversaciones simultaneas
Histórico de conversaciones 30 días
Soporte 3 a.m a 12 a.m / COT
Agentes adicionales
30 usd agente/mes
Canales adicionales
20 usd canal/mes
Incluye 1 usuario (Agente/administrador)
Incluye 5 Canales
Conversaciones simultaneas ilimitadas
Histórico de conversaciones 6 meses
Soporte 3 a.m a 12 a.m / COT
1 menú interactivo
1 encuesta de satisfacción